Pyrrha's Roman Pages and the Rescue Shelter
Dog Show at the Rescue Shelter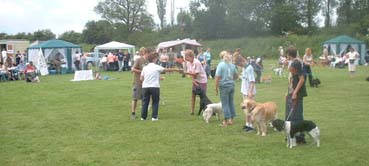 Here I am getting my rosette and goodies for 2nd prize in the Gundog class! All the other entrants seemed to know how to trot round the ring and stand elegantly to be judged, but I did it my way and still got 2nd prize.



This is my friend Apple who also got a rosette (for 2nd Prettiest Bitch).



And here I am in the ring for the 'Best Condition' class with my friend Sophie from the photo shop. It was nice to see Sophie again, and young Holly.




Lisa's Fun Dog Show






These are all the rosettes I won at Lisa's show. It was a lot of fun! I didn't get anything for the Obedience class because there were too many interesting smells around the hall, but these are for our team's successes in the Relay races outside.



I like this hall because it is where I meet all my friends at Lisa's training classes on Tuesday evenings.

We won 2nd Prize in the 3-Legged Race - she was hobbled to Sarah who had Lisa's Mojo. The other pair in our team were slightly quicker than we were, and my 'comfort break' during the final might have had something to do with why we did not win!

4th Prize for the Egg and Spoon and Water-Carrying races sounds very good until you know that there were only 4 teams in the competition, but I'm still very proud of my rosettes. (I hadn't seen little jumps and cones before, and I think I did very well working out where I was supposed to go!)



Agility class at the Rescue Shelter September 2004








The first time I tried Agility I kept going under the jumps instead of over them, and I was pretty scared on the high DogWalk, but here you can see how much I am enjoying myself!





The A-Frame is great fun and I can go over it quite quickly now.



It is always worth running through the tunnel because I know she will have some cheese for me at the other end!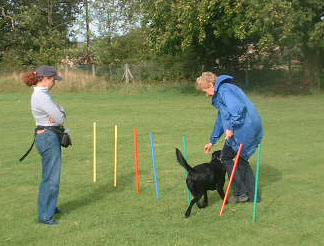 As long as I can see the cheese weaving through the posts I will follow it!


first page

Suki page 3