You can contact me by email if you go to your email program and type




I am always happy to help with questions on Roman topics.
GCSE, A level and IB students will find useful pages relating to UK syllabuses on 'Meet Pyrrha'.




Find out about an exciting new worldwide Classics competition! www.ciceroconcordia.com

I am co-founder and webmaster of this unique competition: students in different countries answer the same questions at the same time, linked by video-conferencing. Boris Johnson, the Mayor of London and President of the Joint Association of Classical Teachers, has sent us a video message which you can see on the website, and UNESCO A Ray of Hope have supported it as an example of an unusual project which encourages schools in different countries to work together to celebrate their common Classical heritage. The Secretary General of the Council of Europe has given the competition his personal patronage. Do look at the website, and consider entering this year if you are a 6th Form student of Classics!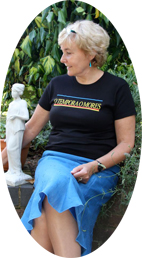 FUN - click here to see a wonderful range of Tee-shirts with Latin and Greek mottoes! http://www.latinshirt.co.uk/
- and I am very grateful to them for sponsoring first prize in the UK cultural section of the CICERO competition.
The one I am wearing here has one of Cicero's most famous sayings : O tempora, O mores
Here is a link to Wikipedia for a translation http://en.wikipedia.org/wiki/O_tempora_o_mores!

Look at http://www.generation-europe.eu/ >our activities >publishing to see details of unique Latin diaries.
- every box of 25 ordered in the UK triggers a donation of £7.50p to CICERO UK.
At the present rate of exchange it will cost about £75 for a box to be delivered to your school - i.e. £3 each including postage. You can see details of the diaries here but DO NOT order from this page! To get the donation for CICERO you need to email David Thorburn directly and mention CICERO.
Call 07804 519395 or email david@generation-europe.org.uk

links to other sites and addresses

garden and mosaic

Roman sites and museums

if you want to meet some Romans

Classical websites I enjoy

if you want to learn Latin

for all Classics teachers who want to find out about an exciting opportunity to meet colleagues from all over Europe.




Nothing to do with Romans! - to meet some dogs who need rehoming, click on 'Worcestershire Animal Rescue Shelter' (I set up the website but it is now run by a member of staff at the shelter).



garden and mosaic - Pyrrha's links

Madresfield Garden Centre gave us a tremendous amount of help when we were planning our garden. Their telephone number is 01684 574066.


Andrew Parkhill designed our garden and his firm carried out the hard landscaping for us.
His phone number is 01886 880816.


The Mosaic Workshop supplied our materials and will make mosaics to order. They also run courses on mosaic-making.

Their address is :
Unit B, 443 - 449 Holloway Road,
LONDON N7 6LJ Telephone 0171 263 2997



Sculpture Heaven : original and exclusive resin sculptures for interiors and garden.

I am particularly impressed by the attention to detail of their inscriptions and Classical designs.

Black Forge Art have a range of individually designed weathervanes and signs. Their telephone number is 01797 270073.


Seeds of Italy have an online catalogue for ordering seeds of plant varieties grown by the Romans. They are happy to answer queries about Roman plants.


Two excellent books about Roman gardens and plants are

'Ancient Roman Gardens' by Linda Farrar ISBN 0 7509 1725 3

and 'Roman Gardens and their Plants' by Claire Ryley ISBN 0 904973 16 6


Look at Jardirom to see a private collection of Gallo-Roman plants in France. (This website is written in French).


Martin Cheek is a mosaic artist who runs courses in mosaic making and supplies kits. Look at his website for details of courses on a Greek island!


Nothing to do with mosaics! -evocative pictures of Cornwall which I really enjoy - by an artist who is also exploring the ancient Cornish language.

Stephen Charnock displays some beautiful modern mosaics - it is worth the wait while the site loads.


The Association for the Study and Preservation of Roman Mosaics has embarked on a project to catalogue all the known mosaics in Britain. Visit their website to find out how they are getting on, and to learn fascinating details of the project.


See also the 'Roman sites and museums' section for more Roman mosaics.
Click here for a page of links on the theme of mosaics; this website is from the Netherlands but it has an English translation!

This comprehensive flooring resource directory includes some very interesting mosaic links : both modern and ancient.


[return to top of page]


Roman sites and museums - Pyrrha's links (look also at 'Classical sites I enjoy')

Bignor Roman villa has a wonderful collection of mosaics. The villa (grid reference SU 987147) is 6 miles north of Arundel and is signposted from the A29 and the A285 roads.
Enquiries to :
Bignor Roman Villa
Bignor
Pulborough
West Sussex RH20 1PH.
Their phone number is Sutton (Sussex) 01798 869259.

Click here for details of opening hours and special events.

The Field Archaeology Unit of University College, London, runs Archaeology Training Courses at Roman villas in the south of England.


Fishbourne Roman Palace has an excellent collection of geometric mosaics, as well as the beautiful 'boy on a dolphin' mosaic pictured on the garden section of this website. There is a large reconstructed Roman garden, and the Education Officer has written a fascinating book about Roman plants and their properties (see the 'gardens' section above).

You can enjoy a real Roman day out in Sussex by visiting both Bignor and Fishbourne - and experience two totally different types of buildings, mosaic styles and atmospheres.


Gloucester City Museum has the tombstone of the Roman cavalryman Rufus Sita.

The Corinium Museum at Cirencester, Gloucestershire, is a modern airy museum with a lovely selection of mosaics and inscribed stones as well as an outdoor garden area.

Guy de la Bedoyere has created a wonderful resource for anyone interested in Roman Britain and he has even included excerpts from some of his books. There is a section on Roman villas and a good introduction to Hadrian's Wall. See also his interpretation of the bronze cup which has just been found in Staffordshire.

Click here for another excellent website on Roman Britain.

The Vindolanda Trust incorporating two sites, Vindolanda and the Roman Army museum, is part of Hadrian's Wall World Heritage site in Northumberland, England. The whole area is well worth a visit, and the museum is particularly famous for the discovery of the 'Vindolanda tablets' - letters written on scraps of wood which give us wonderful inside information on the life of Roman soldiers : about such things as socks, beer and an invitation to a birthday party!
See the tablets here!

The Grosvenor Museum in Chester houses an extensive collection of inscribed stones of all kinds, as does the Legionary Museum in Caerleon.

The Roman Baths museum in Bath offers visitors the opportunity to see the hot spring sacred to the goddess Sulis Minerva together with finds from the temple and its adjoining baths - including a variety of inscribed stones.

The University of Saskatchewan Museum has an excellent website which includes photographs of many of its exhibits. The majority of these are replicas, including a fascinating and very detailed Roman tombstone and various Greek artefacts. I find the commentary on them informative and also accessible to non-specialists.


Click here for a site created by a mosaic enthusiast who has included pictures of a Roman mosaic deep in the countryside.


- And a permanent home has now been found for the wonderful replica of the Woodchester mosaic created by Bob Woodward and his brother.
These are my photos of it. We were able to see this on the final day of its exhibition at Ebley Mill, Stroud and to listen to Bob's fascinating account of how it was made. The mosaic pavement shows the minstrel Orpheus surrounded by birds and animals and intricate geometric designs and is almost 50 feet square.

The original mosaic is buried under a churchyard and was last uncovered in 1973.

I'm delighted to report that the replica is now being displayed in Prinknash Abbey! (follow the link to the Roman Pavement).


[return to top of page]


if you want to meet some Romans . . . (Pyrrha's links)


The Legio Secunda Augusta is a band of enthusiasts who aim to recreate a picture of military and civilian life in Roman Britain during the first two centuries AD. (See my 'Inscriptions' section for evidence of the presence of the 2nd Legion in Caerleon).
They give displays in this country and abroad and their website gives a fascinating insight into their activities.

Roman Tours is an organisation which provides "some of the only full time professional Romans in Britain"!
Their website gives details of the guided tours and educational events they run, and their (CRB-checked) members are happy to visit schools, give lectures and organise all kinds of activity days.

The Legio XIIII Gemina Martia Victrix is based at the Lunt Fort at Baginton, just outside Coventry. This (now partially reconstructed) timber and turf fort is thought to have been used for retraining horses confiscated after the rebellion of Boudica. It provides a wonderful setting for the members of this re-enactment society and their website provides carefully researched information on a variety of topics both military and civilian.

Lindsey Davis is an author of fiction who bases her novels in Rome during the time of the emperor Vespasian.
Her Roman detective Falco might soon be appearing on TV!


[return to top of page]


Classical websites I enjoy - Pyrrha's links


I am trying to reorganise this website so that you can find what you need easily, but there is such a lot here that it is difficult to cross-reference! Links to pages which will be useful for students can be found on the 'meet Pyrrha' page.
For a lively variety of Classical information and games, visit Loxias (one of the names of the Greek god Apollo) at The Classics Pages.
The editor of this site, a former Classics teacher, helped me to set up my website and he now runs 'Webbed Feat", a consultancy for Website authoring.

Iris is the name of an exciting new magazine for school students. Do check out its website, and consider sending an article for publication if there is a topic which interests you! The magazine is free to state schools which would like a copy, but otherwise the cost is £3 per copy.

Kaloi k'Agathoi is a Community Interest Company which presents performances of Greek comedies and also provides workshops for school groups. See their website for details.

The Joint Association of Classical Teachers has a site containing a wealth of information, and the JPROGS site has exciting Classical software for sale.

CA NEWS is the magazine of the Classical Association. Its articles present the Classical world from many different viewpoints as well as providing information about forthcoming Classical events. To find out more, visit its Website or contact the Publicity Officer, Dr Jenny March (PO Box 38, Alresford, Hants SO24 0ZQ).

The Latin teachers' association ARLT has a website detailing support and INSET.
David Swift's site provides some excellent resources for both teachers and students of Classical Civilisation.
Vocabulary help with GCSE and A Level set texts in both Latin and Greek is available on Terry Bird's website - I enjoy using these with my students.
The Classics Library is a new website which has downloadable resources for Classics teachers to use. This is an excellent initiative and teachers are adding new material all the time: definitely worth a visit!

Perseus is the name of a site which contains the most comprehensive resources about the ancient world. Well worth a visit!

The British Museum has just launched this wonderful site all about Ancient Greece.

Friends of Classics is the site for you if you are fascinated by any aspect of the ancient world!

If you would like to find out more about translating Roman inscriptions, click here for the website of the British Epigraphy Society, which organises conferences and will provide speakers for schools.

Guy de la Bedoyere has created a wonderful resource for anyone interested in Roman Britain and he has even included excerpts from some of his books. There is a section on Roman villas and a good introduction to Hadrian's Wall. See also his interpretation of the bronze cup which has just been found in Staffordshire.

Click here for another excellent website on Roman Britain.

Forum Romanum is an excellent site with links to many more Classical websites.

Dr Lorna Hardwick of the Open University is the Director of a research project on the reception of the texts and images of ancient Greece in late twentieth-century drama and poetry. Click here to see a pilot version of the database of recent productions of Greek drama.


Translation into Latin is offered on this website by teachers of Classics!


[return to top of page]


if you want to learn Latin . . .
(Some of this information only applies in the UK)

An exciting 'fun' course about Minimus Mouse, who lives near Hadrian's Wall, has been published by Cambridge University Press. It complements English and History KS2 programmes for Primary School children. Full support for teachers who have little or no knowledge of Latin is available and so are grants to help schools purchase the books. You can email the author, Barbara Bell, for more details.

The Open University now offers a Latin course. Click here for details of their Classical Studies courses.

The Cambridge School Classics Project has had 4 years' experience of teaching independent learners of Latin by email. Current students range in age from 11 to 84 and live in the UK, Luxembourg, Switzerland, Australia and the USA. Each student works at his/her own pace, guided by a qualified e-tutor. Click here for details of the Cambridge Online Latin Project (COLP), both for independent learners and for schools with no Latin specialist. This site also contains activities and help for students of the Cambridge Latin Course, and vocabulary testers for UK exam syllabuses.

Click here for details of how to learn Latin on-line with 'Lingua'! The Website includes details of the coursebooks for beginners and those whose Latin is 'rusty', and a booklet and audio-cassette of selected Latin poetry.

The website of the Joint Association of Classical Teachers contains information about Summer Schools and weekend courses (on the 'Contacts' page) and can put you in touch with a tutor in your area of the UK if you email Clare Roberts croberts@sas.ac.org

My own video, Roman Writing Unravelled can be ordered from the Hellenic Bookservice in London. This video was produced over 14 years ago and it is now 'out of print', since the tape quality is not what people expect today. However, the content is still unique and I know that many teachers use it regularly in their teaching. There may be a few copies still available. It comes with a few leaflets : 'You can decode Roman tombstones'.
The illustrator of the poetry section of the video, whose drawings you can see on the poetry section of this website is Di Lorriman, and you can see more of her work here.

There are some useful exercises in Classical Greek as well as a vocabulary tester on the Eton College website - go to "Eton in action" then "Greek Project".


Here is a site which will be of interest to Classics teachers who want to meet their European counterparts and share ideas about ICT.

Classics & ICT Resource Course for Europe www.circe.be

[return to top of page]