title page
creating a Roman garden


We decided to follow the idea of creating interest within the garden to compensate for the over-proximity of neighbours, although we have made circular areas rather than the more Roman square outlines.


We are grateful to Madresfield Garden Centre and garden designer Andrew Parkhill for their vision and creativity.




Here you can see Malcolm relaxing in the mosaic patio we made.

(It is behind the screen of trellis at the back left of the photo above). The two photos above were taken several years ago, and these two below show what the garden looks like now it has had a few years to mature.
You can see from this picture that the Pompeian Vettii family had a covered walkway around their garden and focused interest towards the middle of the garden.

The Vettii seem to have been two brothers who obtained their freedom from slavery and became rich enough to decorate their house and garden in the very latest fashion.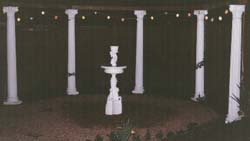 Our pillars are in the Corinthian Order, recognisable for the decorative pattern of acanthus leaves on the capitals.


Here they are in festive mode for our 'garden warming' party.


We chose this fountain because the carving of a boy on a dolphin reminded us of a mosaic floor at the Roman palace at Fishbourne, near Chichester. Pliny tells the story of a dolphin which swam with a boy at Hippo on the north African coast. (Letter IX.33)



Representations of pets or hunting dogs can be found in some Roman gardens in the form of statues, and there are several mosaics showing cats in Pompeian houses, so we decided to remember Tommy, our much-loved cat, by setting this weather-vane above the archway.

(See the 'links' page for details of Black Forge Art.)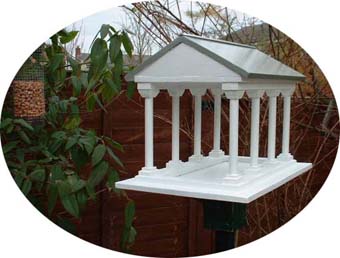 Here is our temple bird-table! Malcolm made this large enough for the collared doves who visit our garden.














- and here you can see Jasper helping Malcolm to fix the bird-table to its stand.




We decided to use plants which the Romans knew and wrote about and those which were associated with particular gods or myths.

Roman plants plants from mythology

article on Roman gardening