title page
Roman Inscriptions

In both building inscriptions and religious inscriptions, you can often see the name of the person or god to whom the dedication is made (usually at the top of the inscription) and the name of whoever constructed the building or gave the offering.

Many words are abbreviated in inscriptions, and some are even condensed rather ingeniously. You will usually find a dot or other symbol between words to help you to identify them.

Inscriptions from buildings

(Click here for Religious Inscriptions or Miscellaneous Inscriptions)

Archaeologists can use building inscriptions to prove that the Second Augustan Legion, which was based at the fortress in Caerleon, spent time building Hadrian's Wall. Roman soldiers were skilled engineeers and builders and left clear 'signatures' on their work!






Stamps of the LEG II AUG Second Legion Augusta can be seen on many tiles in the museum at Caerleon.





You can see how the tiles fitted together on this section of roof - with all the tiles stamped.

To prevent birds nesting in the spaces between the tiles, and to give a decorative edge to the roof, decorative 'finials' were often positioned to cover the join in the tiles.





These three examples are all from Chester. The first shows the charging boar, the emblem of the 20th Legion Valeria Victrix.




COH VIII
> IUL GEME
Soldiers of the 8th Cohort in the Century (> ) of Julius Gemellus identified part of a building in Caerleon by setting this stone into it.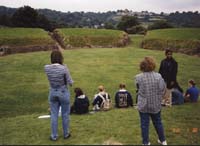 The amphitheatre at Caerleon was just outside the walls of the fortress.


Part of it was built by men under the command of the centurion Rufinus, and they left the plaque below in the wall.



Titus Flavius Postumius Varus, a senator (V[ir] C[larissimus] ) who was a senior officer (LEG[atus] ) recorded that he restored the Temple of Diana.

T FL POSTUMIUS
VARUS V C LEG
TEMPL DIANAE
RESTITUIT



The inscription below can be seen in Rowley's House Museum in Shrewsbury, and shows that the city of the Cornovii (CIVITAS CORNOVIORUM - Wroxeter, near Shrewsbury) dedicated the Forum building to the Emperor Hadrian. (HADRIANO on the 3rd line)

In Latin, instead of writing 'To Hadrianus', the Romans put the letter 'o' on the end of his name. The words 'Imperator' and 'Caesar' both gain an 'i'.
- Hadrian had so many names and titles that the first FOUR lines all refer to him!

IMP[eratori] CAES[ari] ... TRAIANO HADRIANO AUGUSTO
To the Emperor Caesar .... Trajan Hadrian Augustus
DIVI TRAIANI PARTHICI FIL[io]
the Divine Trajan Parthicus' son
DIVI NERVAE NEPOTI
the Divine Nerva's grandson





Below is an inscription from Caerleon for you to compare. It was originally on the wall of a building which the Second Legion Augusta dedicated to the Emperor Trajan.
Notice the titles which the Emperors in both inscriptions share :
PONTIFICI MAXIMO : Chief Priest
TRIB[unicia] POT[estate] : holder of Tribunician Power
(in Hadrian's case we are even told for how many years he had held this)
P[atri] P[atriae] : Father of his Country
COS III Both were in the 3rd year of their CONSULSHIP




IMP[eratori] CAES[ari] .... NERVAE TRAIANO AUGUSTO GERMANICO
To the Emperor Caesar ... Nerva Trajan Augustus Germanicus

DIVI NERVAE F[ilio]
the Divine Nerva's son

Religious Inscriptions
Miscellaneous Inscriptions