title page
Bignor villa





If you would like to see some superb Roman mosaics in a museum which is itself a listed building - open to the public since 1815! - then you should visit Bignor villa in Sussex,England.

It is situated about six miles north of Arundel and its postal address is : Bignor Roman Villa, Bignor, Pulborough, West Sussex RH20 1PH.






This beautiful reconstruction painting by Neil Holland shows what the villa probably looked like in the 4th Century AD.

Notice the barrel-vaulted roofs of the Bath suite on the South wing (at the left of the picture).





Above the figure of the dolphin, notice what could be the signature of the villa's mosaic designer, Terentius.

(The letter 'E' has been reversed so that it shares the upward stem of the 'R'.)

The guilloche twisted rope design is a common border pattern for mosaics.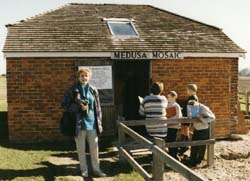 Here I am, outside the little hut which contains my favourite Roman mosaic, the one we chose to be the centrepiece of our garden patio.

It is difficult to describe my feelings as I prepared to meet the 'real' Medusa and to see whether our version did her justice.








She is beautiful!

Slightly smaller than ours, and part of an extremely intricate design.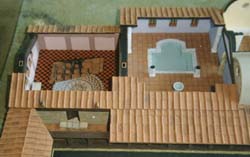 This model of the Bath suite shows that the Medusa pavement formed the floor of the changing-room or apodyterium.

From here bathers would go to the warm room and the hot room before plunging into a cold bath.

The use of stone mosaic floors meant that the Romans could heat the rooms by allowing hot air to circulate in channels under the floors. This system was so efficient that they would wear wooden sandals to prevent their feet burning!




more mosaics at Bignor

opening times and special events at Bignor villa