title page
the Trojans and the Wooden Horse

Virgil : Aeneid 2, (the BEST book of the Aeneid!) lines 40 - 56

You may like to print out the passages below so that you can read them when the recording begins ...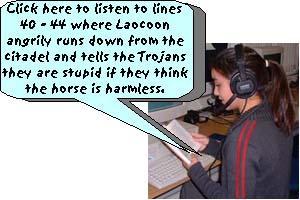 primus ibi ante omnes magna comitante caterva
Laocoon ardens summa decurrit ab arce,
et procul 'o miseri, quae tanta insania, cives?
creditis avectos hostes? aut ulla putatis
dona carere dolis Danaum? sic notus Ulixes?





aut hoc inclusi ligno occultantur Achivi,
aut haec in nostros fabricata est machina muros,
inspectura domos venturaque desuper urbi,
aut aliquis latet error ; equo ne credite, Teucri.
quidquid id est, timeo Danaos et dona ferentes.'
sic fatus validis ingentem viribus hastam
in latus inque feri curvam compagibus alvum
contorsit.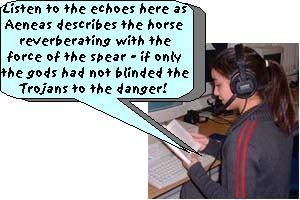 stetit illa tremens, uteroque recusso
insonuere cavae gemitumque dedere cavernae.
et, si fata deum, si mens non laeva fuisset,
impulerat ferro Argolicas foedare latebras
Troiaque nunc staret, Priamique arx alta maneres!




Click here for a pictorial continuation of the wooden horse story.





Click here for a complete list of spoken passages.